Insurance Coverage
We work with all Federal and Managed Medicare, State Medicaid, private insurance plans such as Blue Cross Blue Shield, United Health Care, and employer-managed health plans Care New England. If you do not have health insurance at this time you will not be denied clinical care or pharmacy services from the Care New England Pharmacy. Our specialty pharmacy has dedicated liaisons to help identify and obtain patient financial assistance services and programs. Please speak with one of our specialty pharmacy liaisons and request confidential help if you require it. For more information or for questions, please call (855) 981-1908.
Personal Attention
We will work with you one-on-one, every month, to ensure you are able to take your medication as your physician prescribed. Our specialty pharmacists and patient liaisons are available to talk with you anytime you have a question or concern. When you call, a person will answer your call, not an automated system.
Convenience and Service
You will receive a reminder call before your refills are due so your specialty medication is ready when you need it. We can also fill your other prescription(s) and over-the-counter medications, and have them all conveniently delivered to your home.
Delivered with Care
No matter where you live, we'll make sure you get your medications when you need them. We can also deliver to your work or travel destination at no extra charge.
Packages are delivered in unmarked, temperature-controlled packaging to your home or other location of your choice. Packages are environmentally friendly as they do not contain Styrofoam. For refills please call (855) 981-1908.
One of our specialty pharmacy representatives may need to speak with you before we can ship a refill of specialty medication.
Accredited by ACHC and URAC

The Care New England Pharmacy is accredited by Accreditation Commission for Health Care (ACHC) and URAC for compliance with a comprehensive set of national standards. By choosing a healthcare provider that has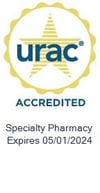 achieved ACHC accreditation, you can take comfort in knowing that you will receive the highest quality of care. If you have any concerns about the product or service that you receive from the Care New England Pharmacy, you may contact ACHC directly at (855) 937-2242.
TTD/TTY Line
Across Care New England patients have access to a Telecommunications Device for the Deaf (TDD). Also, telephones with volume control are available if you are hearing impaired or deaf. Please request assistance from an on-site nurse if needed. Learn More about Rhode Island Relay